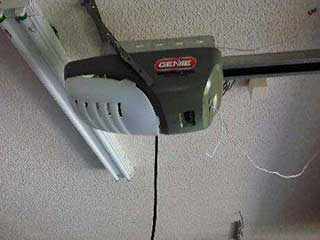 Virtually all households and businesses that keep their vehicles in garages use garage door openers. These electric devices facilitate the automatic opening and closing of the door and eliminate the need for using physical power. The latest models come with advanced technologies for shutting off in case of a problem, for changing the code after each use and for reversing when an object is on the door's path during closing. You can expect optimal performance, safety and security. If there is a problem, you can completely rely on our garage door repair service.
Perfect Results Produced Swiftly
There are various reasons why even the best opener from a top brand like Genie or Craftsman can fail. The list includes physical damage, natural wear and tear and improper installation and use. Our job is to provide the required solution fast and to restore the optimal condition and operation of the device. You can rest assured that we, at Garage Door Repair Sandy, do it perfectly. We are readily available to assist our clients via our emergency service if the problem cannot wait to be resolved.
We resolve all kinds of issues swiftly and effectively. Our technicians are knowledgeable and skilled. We run ongoing professional training to ensure that our specialists keep up to date with the latest innovations in openers introduced by leading brands such as Chamberlain. This enables us to repair even the latest and most advanced units perfectly. We have the ideal replacement parts readily available. No matter which component of a complex screw drive device has failed, we will replace it with the best match. The availability of spare parts and our advanced tools enable us to provide complete problem resolution in no time.
We specialize in garage door opener replacement as well. We will remove the old unit and install the new one with great speed and precision. We take care of all the details from setting the limits to programming the transmitter. You can count on us to provide full consultation for selecting the ideal unit. We can readily recommend the quietest belt drive device or the sturdiest chain drive unit.
We provide full professional maintenance to devices of all types, brands and ages. We will take perfect care of your unit no matter whether it is a brand new LiftMaster creation or an aged model from Marantec. We ensure perfect safety and security as well as optimal operation.
Leave us a note to share your needs!
We also offer the following services:
Garage Door Tune Up Services
Extension Spring Adjustment
Garage Door Cable & Track Repairs