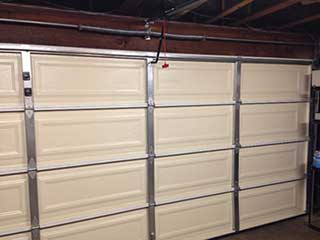 Garage door maintenance is essential for the upkeep of the doors so they remain smooth functioning and working condition. Many individuals believe that this task can be done simply by the application of oil or any lubricants, some form of tightening bolts and nuts, and so on. These in fact are part of maintenance tasks, but just a small portion of it. In other words, there are other issues to consider such as the springs of the garage door. Through time, they may loosen or require a new replacement. Check out also the sections or panels that can bog down or misalign. In these cases, the best course of action to call an expert in the industry of garage door servicing.
We thoroughly check Your Doors
As the best professionals our service technicians at Garage Door Repair Sandy are here to provide thorough assistance for any door-related problems and issues. If you need emergency door servicing, we will be there when the situation arises. If you require regular checking up and maintaining tasks for your garage doors, give us a call. Our team comprised of adept service technicians will set a regular schedule that is convenient for you and dependent on the way the door is used. For instance, if you have the single car garage, we provide you with the quarterly inspection of the door plus its hundreds of moving parts. On the other hand, if you live in an apartment complex wherein the door is in constant use, then it needs inspection every 15 days to make sure that it is always in good operating condition.
As the experts in this industry, we have worked on almost every kind of garage door. Likewise, our dynamic team handles Chamberlain, Genie, Marantec and a host of other brand names. They provide repair services, parts replacements, and even installation of new door system if needed. We are renowned for our leading emergency services that perfectly handle garage door or gate-related problems.
Garage Door Repair Sandy will only offer customers reliable and honest service to go along with the most economical rates in town.
Call or send us an email for a quote today and we will be happy to assist you with all kinds of maintenance and service repairs for your doors and gates.
But wait, there's more! We also offer:
Garage Door Troubleshooting Services
Opener Sensor Repair & Replacement
Torsion Spring Adjustment